Example from proposal in my Master thesis – lighting design & interior concept.
Degree of Master of Science – Architectural Lighting Design
School of Architecture and the Built Environment
2015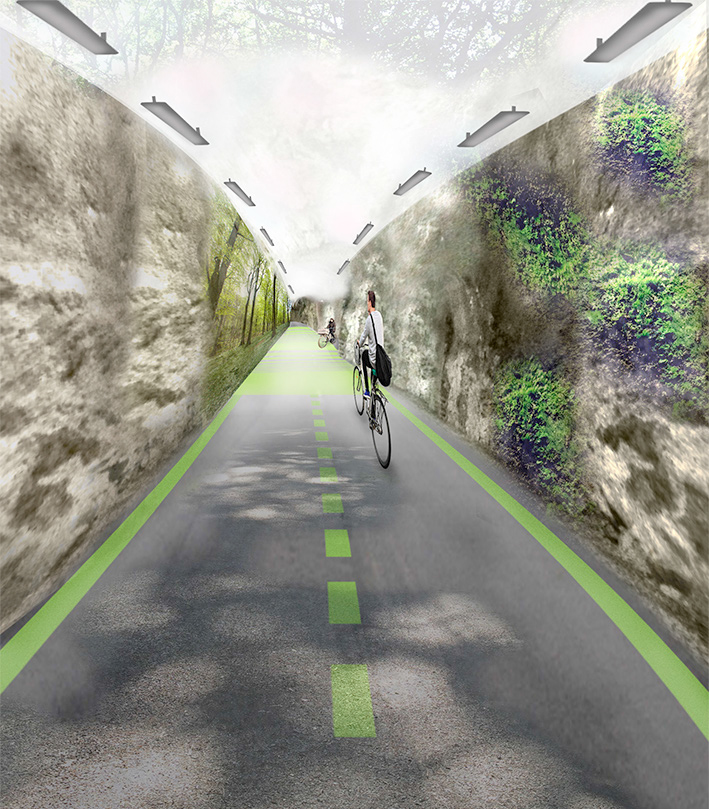 "The forest feeling of the lighting makes me in a realy good mood….taking next exit to work."
Picture : Visualisation – Key zone: Access tunnel/ general tunnel crossing. Theme zone: Forest
Lighting typology:
Spatial lighting; Reflected cooler light in the ceiling giving a soft general light in the space and on the ground. Vertical warmer light on the walls brings out the borders and texture of the space as well as illuminating the face/body of the cyclists supporting the social lighting aspect of the Lighting Concept.
Identity Lighting based on Theme; Photo projections on walls and light pattern on ground and ceiling created by spotlights/gobo, giving the experience of biking through the forest with sky light filtered through the
leaves. Connecting to the nature in reality and by that to the human scale and the cyclists emotions and wellbeing.
Interior Concept: White painted ceiling, pattern on ground, real growing moss on the wall.
Concept of lighting proposal: